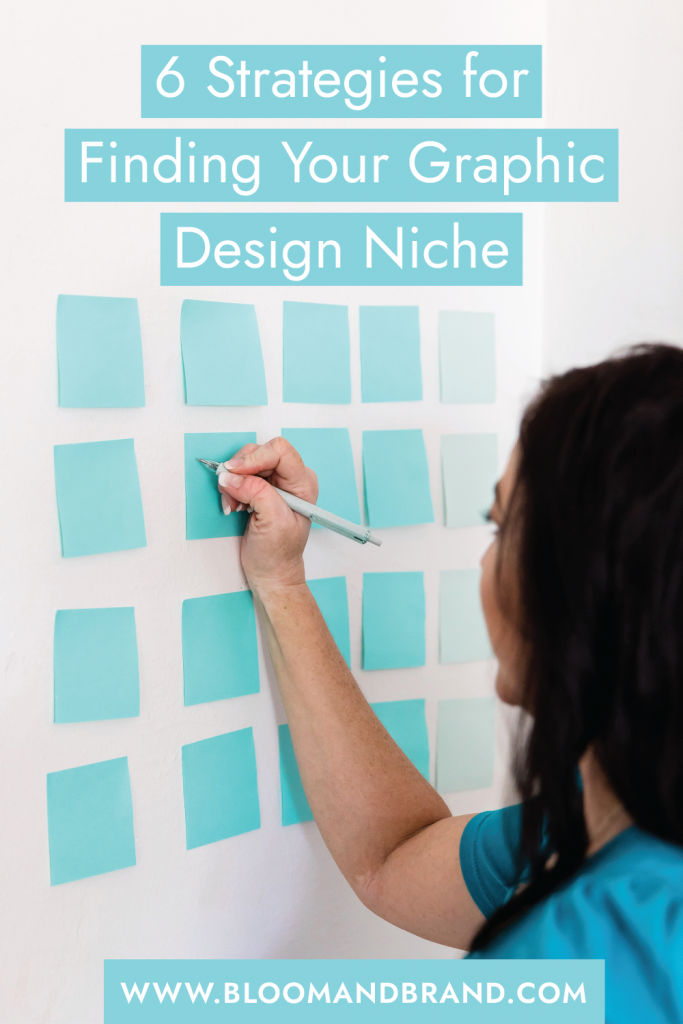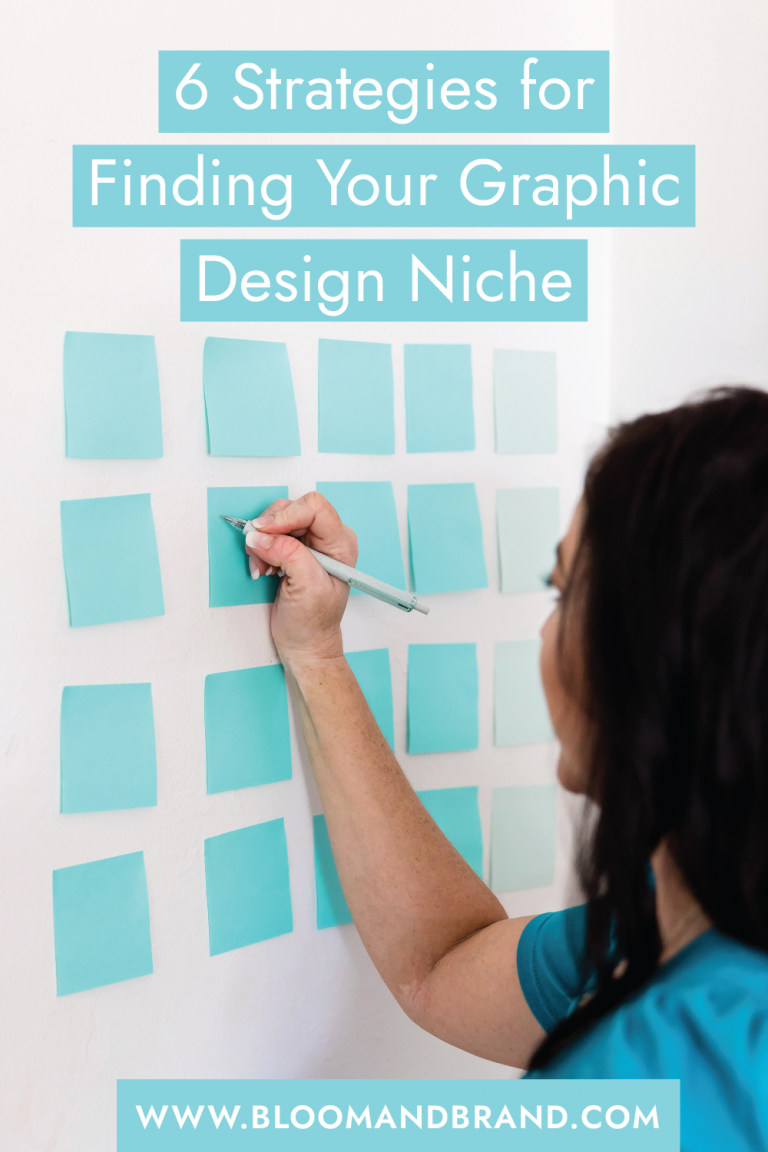 So you want to be a freelance graphic designer? It can be a great career, but it can be so overwhelming to get started.  Whether you're a brand new freelance graphic designer or a seasoned part-timer looking to ditch your corporate job and work full-time for yourself, it's so important for you to find your niche as a graphic designer.
There are many ways to find your niche as a graphic designer – this might look like niching down to a specific type of design (brand design, web design, social media design, etc) OR doing a variety of design services for one specific group of people (ie social media design for Pinterest Managers).
You can look at what types of projects you're most interested in, what type of design styles appeal to you, or what type of clients you'd like to work with the most. There's no wrong way to go about finding your niche, but understanding your interests and preferences is essential for success. This post is going to cover absolutely everything you need to know about choosing your niche as a graphic designer. 
Before we get started, I want you to answer these questions:
7 Questions To Ask Yourself Before You Find Your Niche As A Graphic Designer
1. What type of design do you like to do the most?
There are a lot of different types of graphic designers out there, so it can be tough to figure out what kind of design you like to do the most. If you're not sure, take some time to think about it and see what comes to mind. Maybe you're more drawn to designing logos or branding materials, or maybe you're more interested in creating social media graphics for specific types of businesses.
2. What type of design are you best at?
If you're not sure what type of design you're best at, it's helpful to take a look at your past projects and see which types of graphics and design elements were used the most. Once you know your strengths, it's easy to find projects that fit your style.
3. What type of design do you think others would be most interested in?
Is there an area that you've noticed is lacking when it comes to design work?  Maybe you've identified a specific category of business owners who would benefit from having pre-designed Canva templates.
4. What type of design do you think will be the most lucrative for you?
Of course, you niche needs to be something where people are looking for that specific design service and will pay you accordinly. Lucrative doesn't have to mean only money – maybe it's an industry you are deeply passionate about and want to help out in any way you can. It can be something that is monetarily or personally beneficial to you. 
5. What type of design do you think you have the most potential for?
What are you good at?  What would you EXCEL at doing?
If you're like most people, you probably have a lot of ideas for what you could be good at. Maybe you're great at designing logos and graphics, or maybe you have a knack for creating engaging social media content. But before you can start pursuing any of those dreams, you need to figure out what it is that makes you unique. Once you know what makes your voice and skillset stand out, it's easier to narrow down which opportunities would be best suited for your talents.
WHAT TO ASK YOURSELF FIRST...
Once you've figured out what you're good at, it's time to start looking for opportunities that match your skillset.
6. What type of design do you think will be the most challenging for you?
There is no one-size-fits-all answer to this question, as the most challenging type of design for a graphic designer will vary depending on their specific skills and experience. However, some potential challenges that could be encountered by graphic designers who specialize in branding, advertising, or website design include working with tight deadlines and tight budgets, designing for multiple platforms (web, print, mobile), and incorporating innovative or unique design concepts.
If you like to be challenged, and want to be coming up with new ideas for designs and not just creating the same thing month after month – what design category fits you best? On the opposite end, you may want to make a list of what would be challenging to you in a negative way as things you want to steer clear of.  Hate designing Websites?  Don't make it part of your niche!
7. What type of design do you think you are best suited for?
The type of design you are best suited for will depend on your skills and experience. However, some tips on finding your niche as a graphic designer could include focusing on specific types of design, honing your skills in a specific area, or working with a specific client base. Ultimately, the best way to find out what type of design is right for you is to start experimenting and building a portfolio that showcases your best work.
Now that you've answered those questions, on to the six steps to niching down as a graphic designer!
Step 1: Research the Field
When starting to choose your niche as a graphic designer, it's important to do your research. You don't want to end up working on projects that don't fit your style or that you're not passionate about. Here are a few ways to research the field: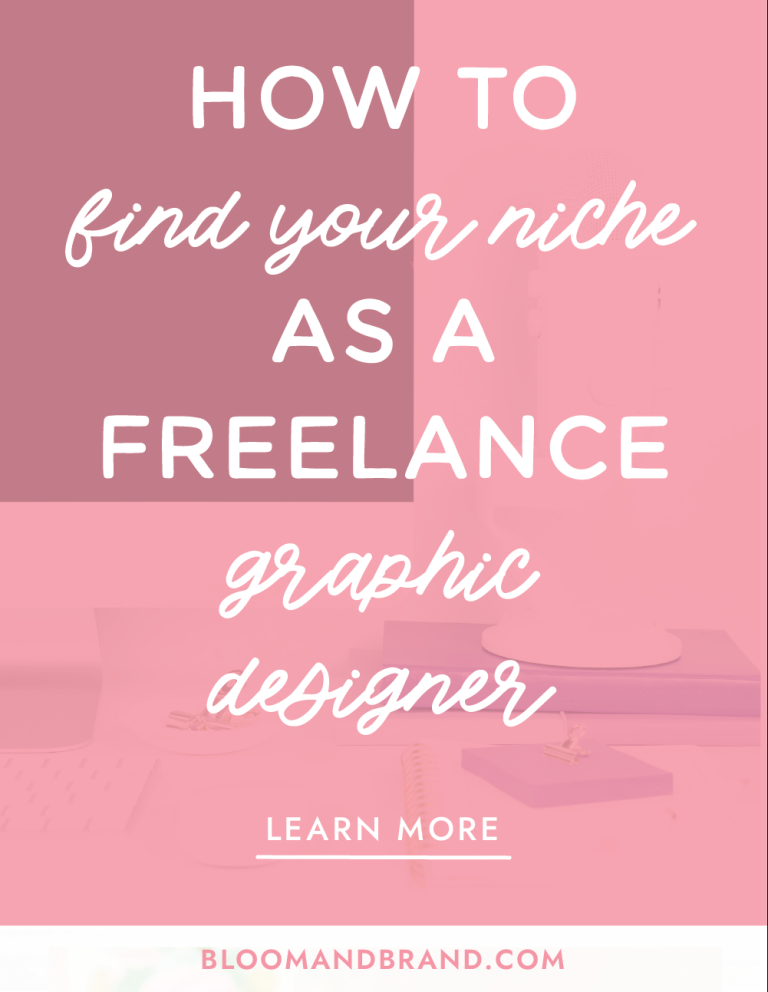 Step 2: Define Your Style
One of the first things you'll need to do as a graphic designer is to define your own style. This isn't as easy as it sounds, but with a little bit of effort, you can create a visual identity that sets you apart from the competition.
Start by taking some time to reflect on your personal preferences and ideals. What are some of the elements that make up your ideal graphic design project? Are they creativity, functionality, efficiency, or something else entirely? Once you've identified these key factors, start incorporating them into your work.
Does your style match a specific industry, category, or business type?  Lean into that for your niche!  If you have a natural, moody style – it may pair well with eco-friendly brands.  If you have a modern, feminine style – you may work really well with female entrepreneurs.
Step 3: Research Your Competition
When starting out as a graphic designer, it's important to do your research. You don't want to design the same type of logo or website layout as your competition, and you definitely don't want to design something that's already been done. This is also helpful for identifying new trends coming up in design.
One way to do this research is to look at similar projects that have been completed by other designers. You can also use online resources like Facebook groups, Behance, DesignCrowd or 99Designs to find inspiration. And don't be afraid to ask fellow graphic designers for help! They're likely to have a wealth of insights about the industry that you wouldn't find on your own.
Is your niche over-saturated, or is there room for you unique spin among your competition?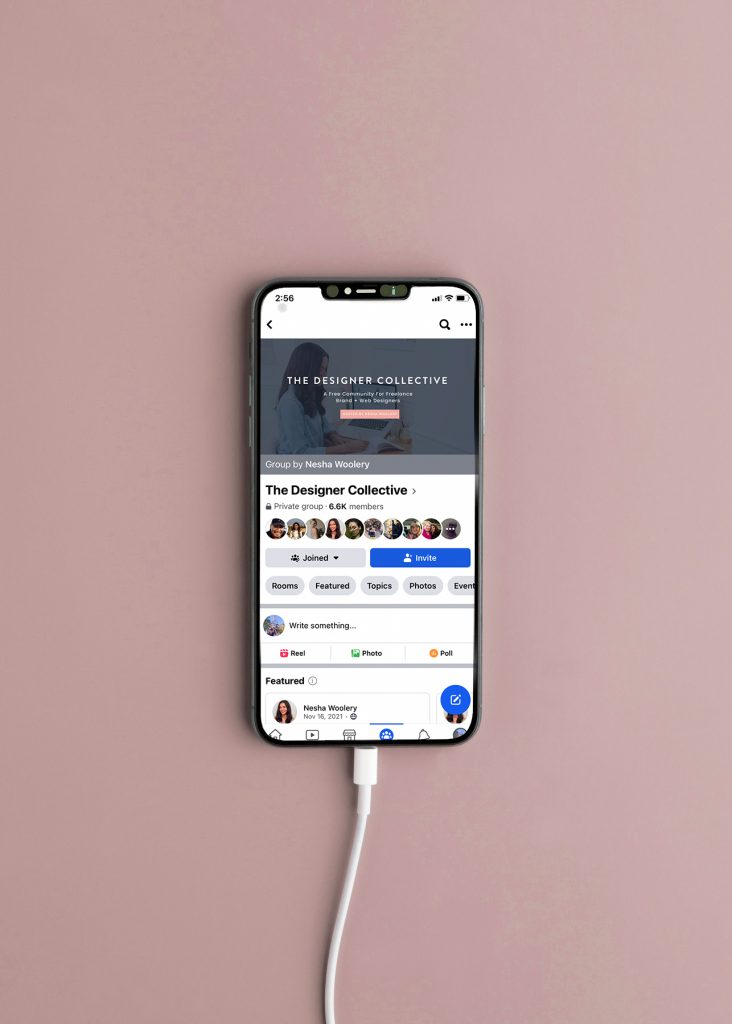 Step 4: Create a Portfolio
Creating a portfolio is an important part of becoming a successful, niched graphic designer. A good portfolio will showcase your skills and show potential clients in your target audience what you can do. It can include a mix of your own work as well as work you've done for other clients. Your portfolio isn't only limited to your design work either – you can start a blog and write about topics in your niche, join Facebook groups related to your niche and contribute your knowledge in them, and find any other way you can to be showing up in front of clients in your niche.
Your portfolio, and web presence in general, should be something that is attracting those within your niche to your business.  Every item should relate back to your niche and prove that you can design for their specific needs. If your niche is social media design, it doesn't make much sense to showcase a restaurant menu design in your portfolio – you want to showcase past social media work you've done.
Step 5: Reach out to Clients in your Niche
So, you've got a niche… now what? 
When you are starting out as a graphic designer, it is important to find clients in your niche. This can be done by reaching out to people who work in the same field as you, or by searching for groups or associations related to your profession. Once you have found a few potential clients, it is important to make a good impression on them. You should present yourself well and be sure to answer any questions they have about your work.
This isn't done in one afternoon and does often require a lot of your time and energy to do BUT it will pay off in the long run.  I work with a lot of bloggers and content creators, so I have found many clients through Facebook groups within this niche. I contribute when people have general questions about design (but aren't looking to hire someone out) so that my name is appearing whenever someone asks about design.  This means that people will see my name repeatedly when they are doing a search for design questions in the group at a later date AND will know that I'm available to help with their design needs. When new design questions get asked in the group, or when someone is asking for a designer specifically – other users in that group recognize you and start tagging you for potential client opportunities. I've signed new clients who say right off the bat "I've seen your name mentioned in the Facebook group, others have recommended you, I trust you, let's go" because of the trust factor from Facebook groups.  The one caveat is you need to be authentic.  You can't be in there ONLY looking for clients – you need to contribute and of course – be sure to follow all of the rules in any Facebook group. 
And once you begin working with someone from that group, they become a great referral in the future for any contacts they have within the same niche.  I have worked with a Pinterest Manager who trains new Pinterest Managers, and when her students start needing design work hired out, she has referred me to some of them as well. Connections within your niche can be so beneficial to gaining new clients!
With any Facebook group, be sure that you are following any rules of the group – especially if you aren't allowed to promote your own business.
Step 6: Publish Content in your Niche
Once you have determined your niche and created your target market, it's time to start putting out content in your niche. This means creating blog posts, designing flyers and ads, etc. focusing on the needs of your target market. You need to make sure that you are providing valuable information and promoting yourself as an expert in your field. If you can do this consistently, you will soon be able to build a loyal following of clients who are looking for the same type of content that you offer.
Some content ideas are:
So there you have it, a guide on how to find your niche as a graphic designer. Whether you're starting out or looking to improve your skills, understanding your interests and finding projects that match them is key to success. Follow these six easy steps to becoming a freelance graphic designer and you'll be on your way to finding your niche and seeing success as a graphic designer!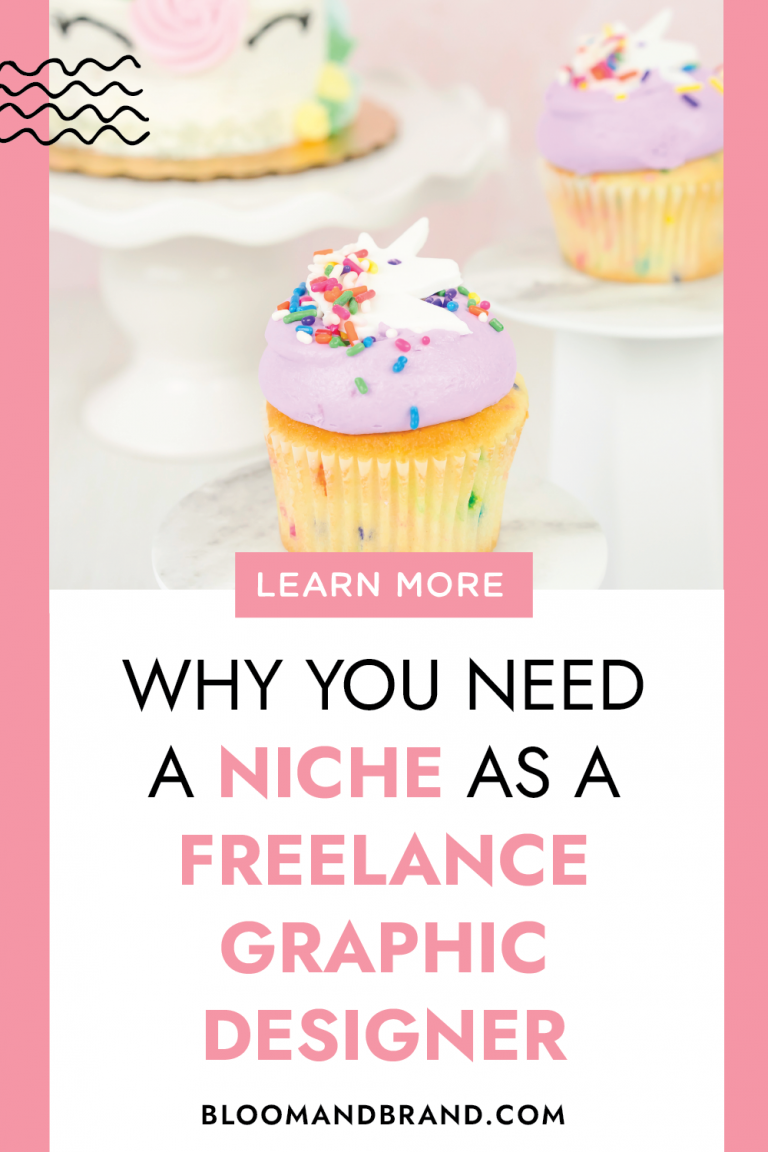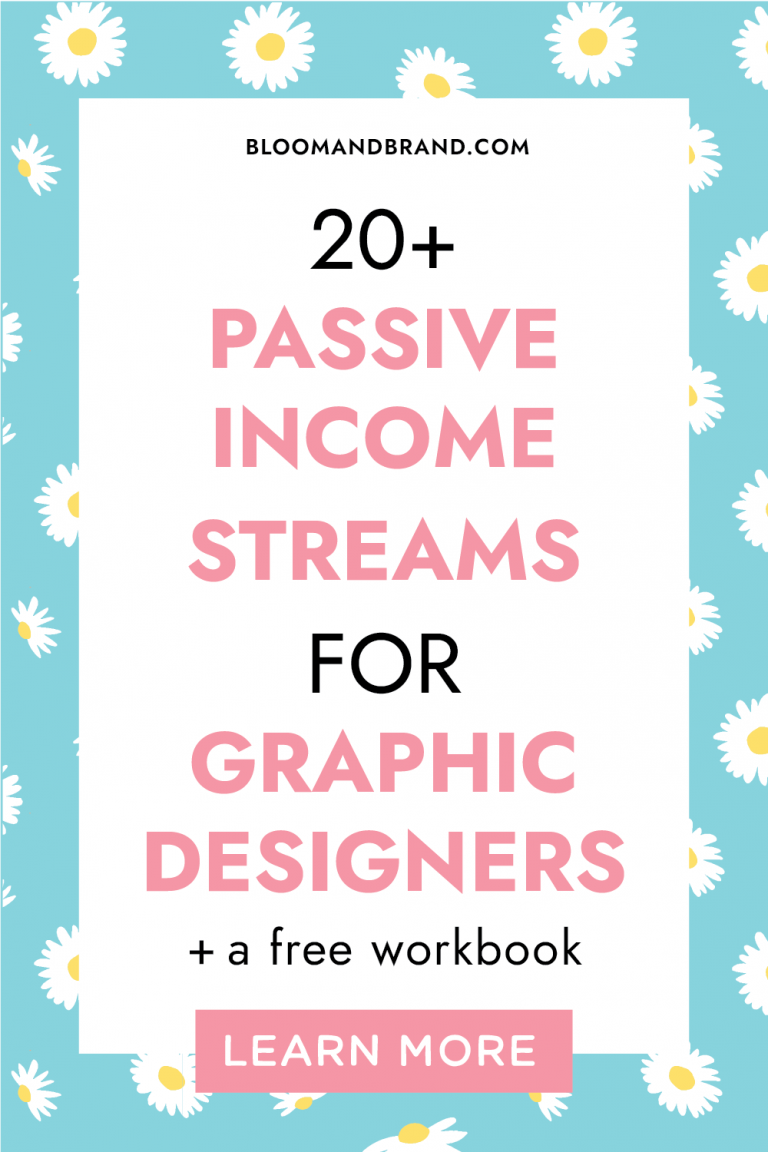 The Graphic Designer's
Roadpmap to Passive Income​
Which income stream sounds best for you? What product should you sell? There are SO MANY options for you. 
Can't decide?  Download my FREE Graphic Designer's Roadmap to Passive income – this workbook will walk you through the steps to starting your own passive income business, offer ideas for your next income stream, and help you decide which stream is right for you.