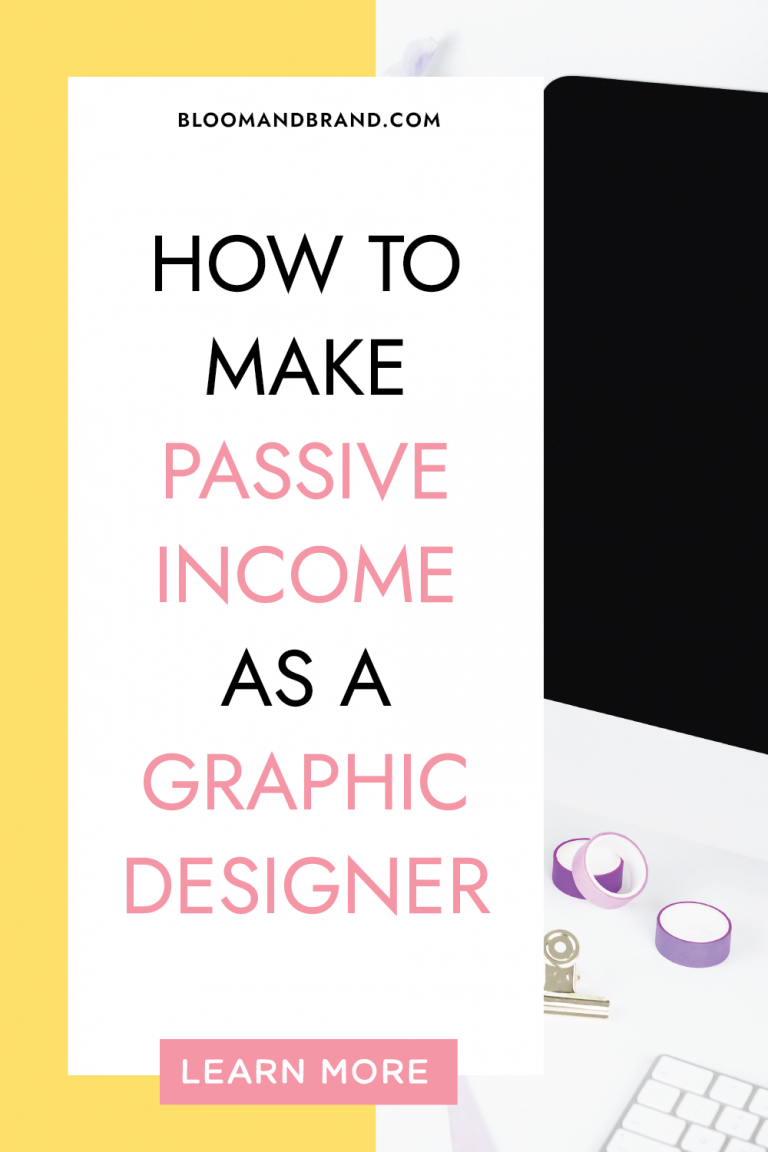 So you want to learn about passive income for graphic designers! As graphic designers, we already have the benefit of a great work-from-home business idea from the get-go: freelance client work. I've had a side hustle of freelance design clients since before I even graduated from my graphic design program in college, everything from one-off web design projects to monthly design management. As great as it is, it can feel like you're trading your time for money and that puts a limit on how much you can earn (outside of scaling your business into an agency with subcontractors but that is a whole different topic). Enter passive income. 
Before we start, let's get one thing out in the open: Passive income does not mean making money with zero work. There is upfront work involved that you will then get paid for over and over again, while still needing to manage customer service and small behind-the-scenes updates. You can make money in your sleep… But there is a significant amount of work you need to do first to get there. 
The real benefit? You can set it up on your schedule, on your terms, and work on it as much or as little as you want. As you go, you can fully automate (or outsource) a large portion of your tasks so that you are spending less and less time in your business while earning more and more each day. You can treat it as a full-time job and dedicate as much time as you have, or you can work away at it here and there between client work (or your full-time job) until you're ready to launch. If you enjoy client work and don't ever want to stop it completely, passive income may not become the bread and butter of your income but a little safety net for slower months, savings, investing, etc. You will get out of it what you put into it, and that's what I love about it!
But.. how can you get started with passive income? What can you sell? How do you sell it? The options are unlimited. You can niche down and sell one specific product to one group of people, or you can create multiple income streams that could be sold to many different groups of people. 
You can always be what Kimi Kinsey refers to as a Multi-passionate Entreprenuer (love that!) and start multiple income streams with digital products across different niches. I know, I know, the saying "there's riches in niches" is a saying for a reason – but I am all for creating products you are passionate about as it makes your sales journey so much more authentic (and easier!). I like home decor, so I sell digital home decor products. I like coffee, so I'm thinking of starting a passive income stream around that. You can treat a passive income stream as just another business where you create what will sell and that's that, or you can create a passion income stream where you create a product because it's what you love to do and sell it for the extra income. I'm the latter. 
So without further ado – here are 5 of my favorite ways to generate passive income as a graphic designer, along with 20+ product ideas and how to get started building them. Need more ideas?  Download the FREE Graphic Designer's Roadmap to Passive Income featuring EVEN MORE passive income ideas for graphic designers.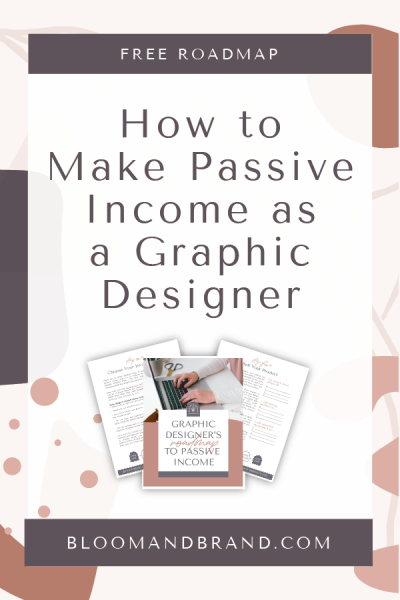 20+ Passive Income Ideas for Graphic Designers
(+ a free workbook)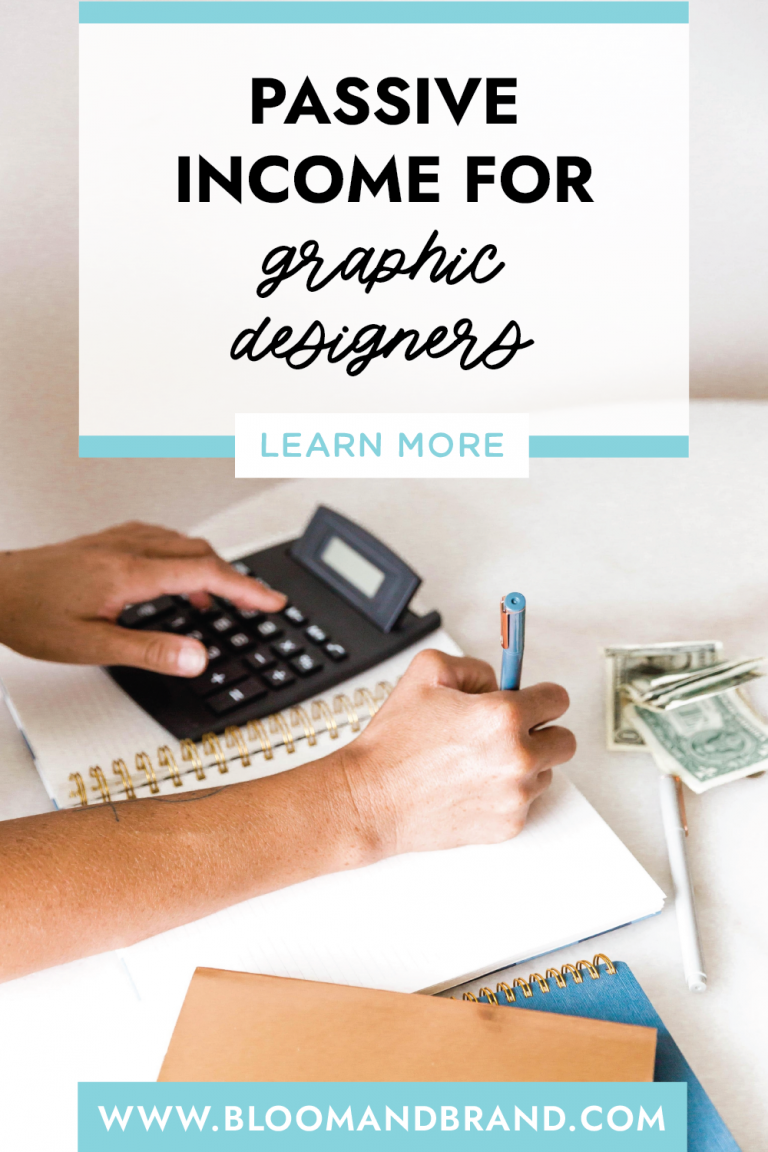 The Graphic Designer's Roadpmap to Passive Income​ - FREE Workbook
Which income stream sounds best for you? What product should you sell? There are SO MANY options for you. 
Can't decide?  Download my FREE Graphic Designer's Roadmap to Passive income – this workbook will walk you through the steps to starting your own passive income business, offer ideas for your next income stream, and help you decide which stream is right for you. 
1. Open a Drop-Shipping Store
This can be: T-shirts, mugs, home decor, art prints, selling notebooks on Amazon (yup!), and more.
Probably one of my favorite options, but very time-consuming – your very own dropshipping store! This means you design products (t-shirts/apparel, mugs, art prints, etc!), upload them to a dropshipping partner, and sync that listing to your online shop. You can use a platform like Etsy, Shopify, or WooCommerce and as customers place their order, your drop shipping partner will produce and ship the item for you. There are many different printing partners you can choose from (and we'll go over this more in a future post!), depending on what you want to sell. 
Want to sell t-shirts? Simply do a google search for "print on demand t-shirts" and you'll find a variety of partners. Create your design, order a sample, start your store, and voila! Don't get too excited, it's not quite as easy as it sounds – there is a time commitment involved! But this is a great income stream to work away at over time, then when you have a few designs made – launch your shop and start selling!
With this option, you will always have the continued work of customer service. Your printing partner will do a lot of the work for you, but if there are any issues with the order –  lost in shipping, damaged items, etc. – that falls on you to make it right with the customer! This is why it's so important to get some sample products before launching your shop. You can test the quality, shipping speed, and packaging style of your printing partner and figure out any design placement issues before your products get to your customer. 
I currently have a hybrid digital product shop – I sell drop-shipped throw pillows and art prints, and also offer the art prints as digital files over at www.southboundmarket.com. 
2. Sell Digital Templates
This can be: Canva templates, brand and logo templates, lightroom presets, ebook templates, and more.
One of the easiest for designers, and can be on the lower end of time commitment once your products are uploaded. You will of course always have a bit of customer service for people who lose their access, need help using the templates, etc. but it is overall a "set it and forget it" income stream. This is especially easy if you've already made your own templates for clients or to use in your own business as they can be easily adapted. These should be branded neutrally so users can easily add their own branding. 
Templates can be created on a platform like Canva for non-designers to edit the templates easily, or created in whatever program you use and include a .zip folder with all necessary template files. 
You can make templates for:
And there are so many more options out there! Take some time to make a list of what templates you already have for your business or what templates you think would help your business, and then start creating them. 
Want to go even further? Once you have a good selection of templates, create a new bundle or start a membership program where users can get access to all of your templates for a recurring monthly cost.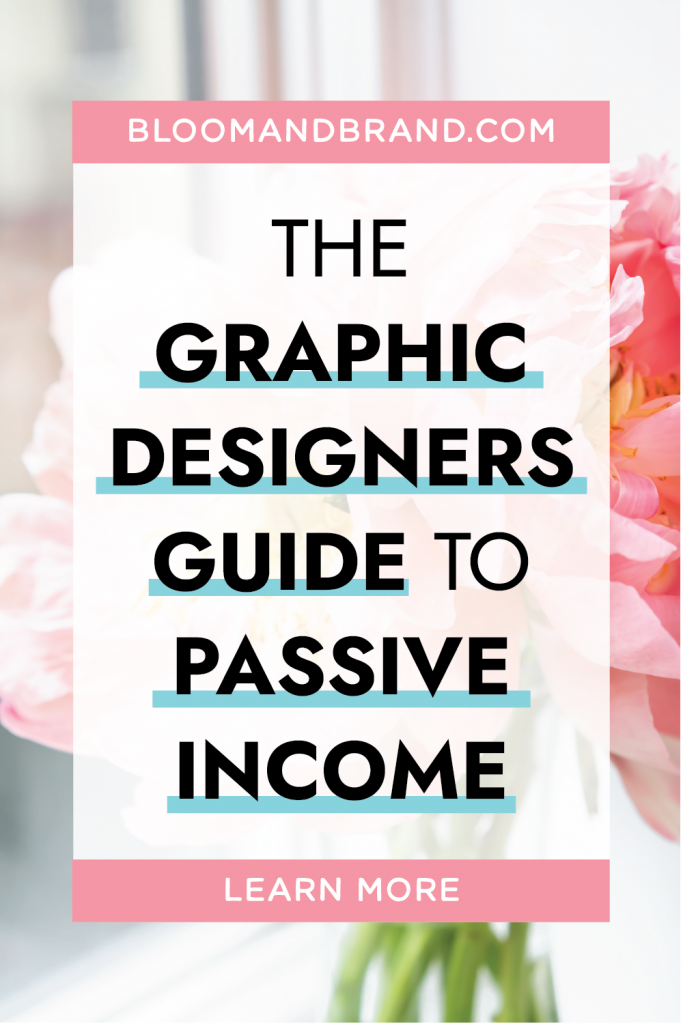 3. Create and Sell Digital Products for Consumers
This can be: Digital art prints, party and wedding invitations, greeting cards, and more.
This is my current "side hustle" for passive income, and one of my favorites! I love home decor, so I started selling digital prints that I had designed to use in my own home. I create the file once, list it in my Etsy Shop (link to shop), and sell it on repeat! 
It doesn't have to just be art prints – there are a wide variety of digital items that you can sell on Etsy! These would be items that you are selling direct to customers, usually easily customizable by the customer themselves, to be used for their personal work.  If you're selling a product like wedding invitation suites, you can use a platform like Corji so customers can instantly customize their files as soon as they complete their purchase. 
It also doesn't have to be on Etsy! You can start your digital product store using Shopify or Woocommerce, but I personally love Etsy as a "start here" platform for digital products. There are fees involved in listings, but you can easily recover those fees with digital products as you are putting in the same amount of effort whether you sell an item three times or 100 times.
As with any digital product, there will be some customer service tasks involved – making sure users can access their products, answering questions before they buy, and even doing custom jobs if you want. You can set up the shop and run it with very little effort, though I do find that on the weeks I am putting more into my Etsy store – uploading new products, adjusting older listings, etc – I start seeing more income from my Etsy store. You will notice that with a lot of passive income streams! You get out of it what you put into it.
4. Create and Sell Digital Products for Businesses
This can be: SVG files, digital illustrations, fonts, patterns, and more.
Think of these products as anything that could be written off as a business expensive for your customer. These would be resources that you are selling to other designers and creative business owners. In most cases, they would be reused for commercial products for their business which means you can make even MORE $$$ for the same product by offering commercial use.  Most platforms you can sell on, outside of opening your own branded shop or Etsy shop, require you to use their licensing terms BUT you can set your price for the cost of a commercial license. 
Another great thing about this option is you can start a shop on multiple different platforms, leading to multiple streams of income from the SAME products. You can list your items on just one platform, or all platforms you can find plus your website. 
There are a wide variety of platforms you can list these products on! Here are just a few:
As with an Etsy shop, you can also launch your web store of these digital products and sell directly on there in addition to on these platforms. If you are going to go this route, I highly recommend also having a presence on at least one platform as you get the built-in audience of people looking for these items. You will pay a fee to the platform for selling your items, but as discussed with Etsy – those fees are easy to recover with digital items that are sold over and over again. 
If you're going to sell on your own platform, just be sure to follow the rules of any external platforms you're selling on. With Etsy for example, you can't place a link in your listing for any website where you offer the same product. They see this as "fee avoidance" and will shut down your shop. You can, however, promote a lead magnet in your listings and re-advertise to those customers through your mailing list. Always be sure you are following the rules on the platform you are selling on as they can shut you down at any moment – another great reason to not "keep all of your eggs in one basket" and sell on only one platform. 
5. Launch a digital product
This can be: a digital course, membership program, stock photos, ebook, template suite of products, and more. 
The limits are endless with this option! I'm sure you've seen plenty of ads for digital products before – everything from courses and masterclasses to stock photo subscription sites and digital templates. What products have you created to help you in your business, that you could turn around and resell to others? What knowledge do you have that you can package up into a course or e-book and teach others?
Once you create a few different digital products, you can bundle them up and create a new product with little extra work if they fall within the same niche. If your ebook on a specific topic is popular, you can expand that into an online course or create some digital templates within that niche.
This can be: all about graphic design, about any other topic you're passionate about (I'm starting one for home decor!), or even a lifestyle blog.
If you're interested in writing, a blog may be perfect for you! Starting a blog can be A LOT of work though, which is why it's listed as a "bonus".  When you consider all other passive income sources, in my experience a blog is the one that takes the longest to see a return on and it can be a very low return for a long time. This is not always the case! If you have the time (and resources) to go at a blog full time right from the start, you have a good shot at having a better outcome. As with all passive income streams, you get out of it what you put into it. 
The benefits are that setup is relatively quick (and easy if you have any experience with web design), low cost ($10 domain name and a cheap hosting package), and fun if you enjoy writing. I'm in the process of starting a blog and am treating it as more of a hobby project than an income stream because it's simply something I enjoy doing. If I can monetize it, great, if not – I'll still enjoy the process! But you can absolutely treat it as a business and grow it to a point where it can be monetized. 
You can also start a blog as a complement to your passive income stream(s) by writing posts related to your product – tutorials, FAQ, behind the scenes, etc. This is something I utilize with my online shop and would work in most niches.
20+ Ways for Graphic Designers to Earn Passive Income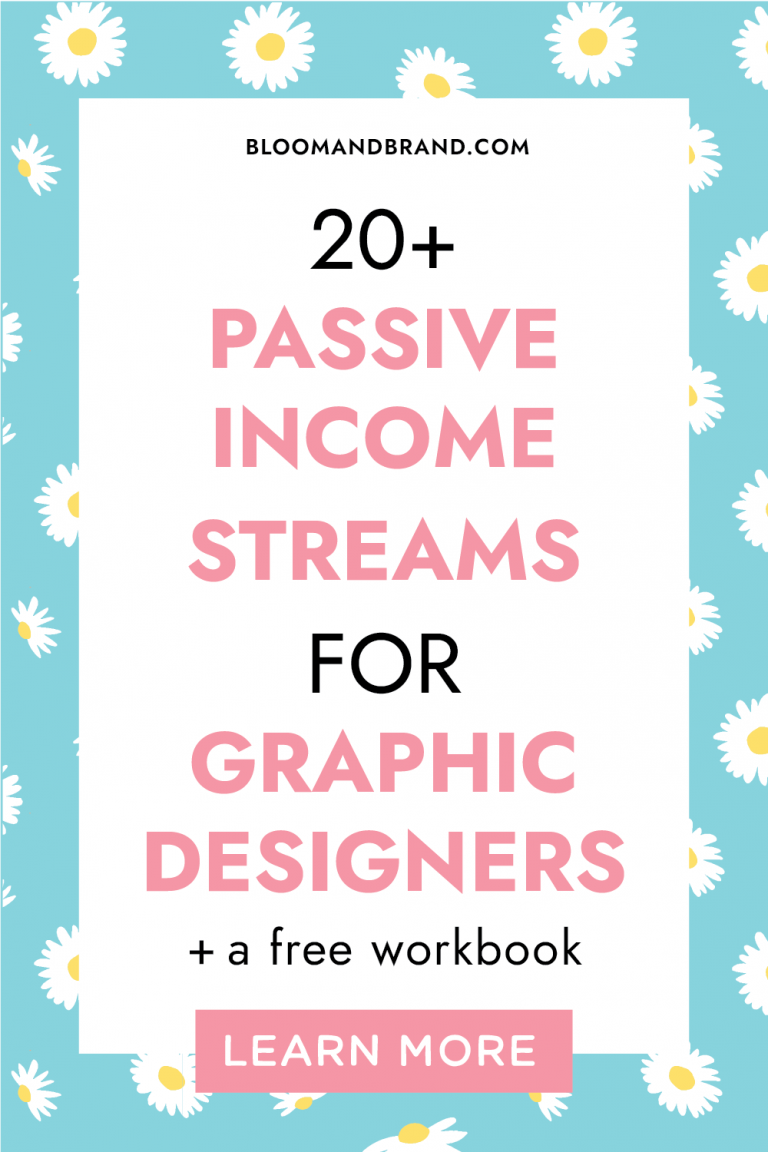 The Graphic Designer's
Roadpmap to Passive Income​
Which income stream sounds best for you? What product should you sell? There are SO MANY options for you. 
Can't decide?  Download my FREE Graphic Designer's Roadmap to Passive income – this workbook will walk you through the steps to starting your own passive income business, offer ideas for your next income stream, and help you decide which stream is right for you.